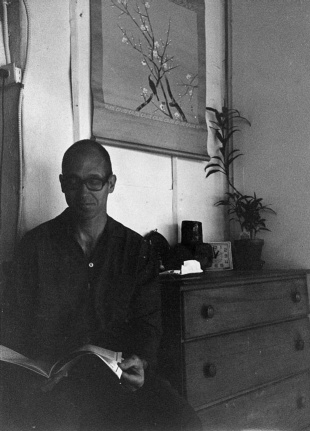 It is with some difficulty that I relate Herman's passing on January 30, 2020. He was 92, a Dragon.
Herman Kauz writes:
As a student of Asian martial arts for [74] years and a teacher for [69], my thinking about the function and value of studying these disciplines has undergone a number of changes. My ideas were, naturally, strongly tied to my experiences in training. In retrospect, my meanderings in the martial arts appear to have followed a sequential pattern of development. This sequence might be acceptable in terms of the idea that all roads eventually lead to the same end. Yet, I know that the pattern I will describe is something of an illusion. It is probably formed by the rational mind's tendency to select certain memories of events from among many in the past and to arrange them in a way that seems logical and coherent.
I began to study judo in Hawaii soon after World War II. I had done some wrestling prior to this, but when an opportunity to begin judo training afforded itself I took it. It became my major interest. I soon found, however, that my preconceptions about judo as the ultimate in self-defense were wrong. The judo I was learning was sport judo and not the kind of jujitsu and karate combination my reading had led me to expect. Nevertheless, I continued to practice and gradually found myself being caught up in this training. The competitive aspect of judo also attracted me. In addition, I slowly became aware of and interested in a Japanese way of doing things.
After studying judo for eight years and teaching it for about four, I went to Japan (1956-1958) to continue my training. To practice judo in Japan had been my intention for a number of years, because judo originated there. While in Japan, I became interested in karate and began to study that art daily for about two years. Karate training differed slightly from that encountered in judo in that more of the training consisted of individual practice. Moreover, at that time, competition in karate was not as strongly emphasized as it was in judo.
In 1958 I returned to New York and resumed teaching judo. Because of the rising interest in karate, I taught this as well. During this period I practiced kendo briefly and continued studying aikido with a friend who was a teacher of that discipline. I had studied aikido for a short time in both Hawaii and Japan.
As the years passed, my approach to the study and teaching of martial arts continued to change. My earlier emphasis on self-defense and competition began to move more in the direction of training as a preparation for, or an aid in, living as fully and completely as possible. As I reflected on the changes my study of martial arts had made in me, I realized that my training had been something more than the surface, body strengthening, skill-producing kind. I became aware that an inner development was also intended and had occurred. The beginning of an interest in Zen also contributed to this change in my outlook.
In 1963, I decided to go to Japan once again to study Zen and to continue my training in judo and karate. I stayed for about two years and then returned to New York where I began a study of tai chi chuan. Tai chi attracted me strongly because it combined the mental and physical aspects of martial arts training in the proportions I had come to feel were right for me. Presently, almost all my efforts are devoted to practicing and teaching tai chi.
. . . . . . . .
The ideas I hold about the direction in which martial arts training should go are not shared by all who practice or teach these arts. Among those who would generally agree with my point of view, a much smaller number would place primary emphasis upon inner development. Nevertheless, my experience in studying and teaching martial arts over a fairly long period of time has gradually brought me to my present view. My hope in writing this book is that I might turn others in a direction I have found very helpful for living.
Excerpted from The Martial Spirit, by Herman Kauz; Overlook Press, 1977
( I visited Herman last spring and have to say, Yes, 4 ounces is real. Pushing with 4 ounces, not just reading/feeling but pushing with 4 ounces. It was inspirational and a training direction I give myself. pk)
Additional books by Herman Kauz include:
Tai Chi Handbook – Exercise, Meditation, and Self-Defense
A Path to Liberation – A Spiritual and Philosophical Approach to the Martial Arts
Push Hands – The Handbook for Non-Competitive Tai Chi Practice with a Partner